Color Theory
Summer afternoons, we make a game
of collecting empty shells
spit from a shotgun chamber: silver
and red against the downy grass.
This morning, he levels a gun at my stomach
and pulls the trigger – pew pew pew.
The barrel whirs to life. A spinning mechanism inside
flicks blue light against the plastic interior
and he is too quick. I fall
extravagantly to the unmade bed, convulse
when he shoots my slumped body
again and again.
Sometimes my son says yellow when he points to a duck
on the page. Some nights, the horse is blue.
Everything he sees is red, red. At a BBQ, I overheard
his father say a bullet through the mouth is most humane.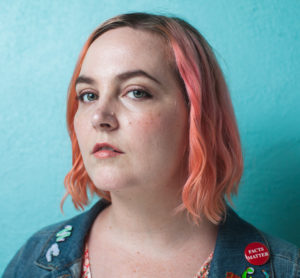 Dana Koster is the author of Binary Stars (Carolina Wren Press 2017). She was a Wallace Stegner Fellow. Her poems have appeared in EPOCH, Indiana Review, Southern Humanities Review, The Cincinnati Review, MUZZLE, diode, Radar Poetry, and many others. She lives in Modesto, California with her husband and two sons, where she works as a wedding photographer. You can find her on Twitter @chairadventures.
(Visited 120 times, 1 visits today)