Barbed Wire
to keep people in,
out, birds off.
In winter,
pigeon has to settle for a branch
in a tree
overlooking the prison yard.
What he cranes to see
I manage to avoid:
a fight, folding table, playing cards,
someone's father.
The visiting room: smaller, yellower
than the world outside.
In winter,
ducks gather
in the watery part of the pond,
ice crystals forming inches from feather.
Tell me how a body can be both
soft and hard—
if my dog will ever quit licking his bowl
once all the food disappears
or if he's doomed to try
and try again—
why I hesitate to explain
even to my love
that I sometimes pray seated on the toilet
—no making a show of my need,
instead
tugging at a question mark,
touching one palm to the other,
imagining a shovel,
and then the hole, wide and deep.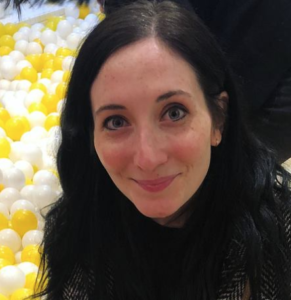 Jiordan Castle is a regular contributor to the LA-based quarterly food and culture print magazine Compound Butter. Her work has appeared in Bitterzoet Magazine, Palaver, Potluck Mag, Brain Mill Press, Tell Us a Story, Verdad, and elsewhere. She lives in New York City with a pug named Hacksaw and will graduate with an MFA in poetry from Hunter College in 2019. You can find her at jiordancastle.com.
(Visited 190 times, 1 visits today)