How the Riot Paints
Blood oranges taste the sweetest,
how they drip red down a chin without a cut,
how I can wash my hands and see them
leftover in the lines of my palm.
I eat them until my stomach aches,
and yesterday I swallowed the peels
like a pill so I could feel it in my throat
how a wolf eats a carcass.
All the nutrition is in the peel,
all vitamin and rind and color like a sun.
All these suns in my mouth
and my belly is on fire like a riot.
The belly of the riot must be on fire,
all these sons in its mouth like blood oranges.
The skin like a rind, the bones like vitamins.
I pick my teeth like a riot does for limbs.
Most times there is no resistance,
spines already broken, made liquid.
I only spit them out if they're rotten,
the insides spiteful as mouthwash.
The loudest ones leave an aftertaste,
their pulp fat as an opera.
Sometimes there is singing
like a ringing in my ears.
I have begun to hum low
as a buzz, my mouth parted.
Sometimes this song is loud
like a riot, like red down a chin.

How a Temper Grows Up
In the morning there is a doorway—
bare bone soft feet step bare
so as not to make floorboards scold.
Voices lowered by the dawn,
a small body pressed to the lapel of a kitchen wall,
a cast iron skillet speaking pancake batter.
This is the world of the newly born,
plus the alleyway off Galt Ave.
and the front yard tree with branches for arms.
There is rage at the taking of things,
lullabies to sooth the inability to dress oneself,
to bathe oneself clean of the day.
The outside is where the swings are
that keep from the sky, where I learn
feeling the wind is like flying standing still.
If I am to be here there must be a blaze,
or at least something that spits and howls
and is not too stubborn to die after burning.
When I learn to love
remind me of the whip between my teeth,
of the bees trapped in my mouth.
Call me home twice like dinner is cold
before I run to beat you
to the place my breath is heaviest.
Most times I can't find my hands,
left inside where the world can't get in
if I close the door tight enough.
In here these voices claw at the wall
loud as shadows and I fight them
like my fists have never known flat palms.
I have calmed this rage to a rain
you will still smell in your clothes
the morning after.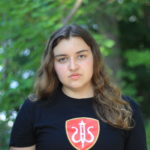 Mackenzie Berry is an artist scholar in the First Wave Hip Hop & Urban Arts Program at the University of Wisconsin-Madison. She founded the 501(c)(3) nonprofit organization Young Poets of Louisville, which provides a safe space for young people ages 13-19 to develop themselves through the written and spoken expression of poetry in Louisville, Kentucky. She served as Poet Laureate of Thrivals 8.0 of the Louisville Idea Festival and has been featured on NPR for her work.
(Visited 321 times, 1 visits today)