Chiaroscuro
The worry is always whether my indulgence like a regular subject-predicate is universal.
The worry is whether the scope of my writing now rests too firmly on autobiography and the sexual violence of autobiography.
Does the writing inure itself to the act, does it inflict too much falsity around the feelings, and what exactly even is a trigger.
I will not indulge I will not indulge I will not indulge.
My honeymoon with the Venus of Willendorf ended in the same bucolic lyric in which it began.
The field felt different then. Warmed and flattened by a body. The shade and storm of having been present is how we annihilate the sequence leading to now. I'm not sure if this body is mine.
Which is to say I am tired of poets describing nature in the correlative sense.
A stranger handed me a narrative of my life, and another made of stone.
I whittled a symbol in the shape of my body and handed it back.
Wrong. Imprecise. I am more fragile than the narcissist who lives in a glass dustbowl with her selfies. Sparrow-lipped alone with her followers mortally following.
This morning the city smelled of a brush-fire seventy miles away and I felt a pang of uncertainty followed by grief and it is chiefly for this reason that I cannot clearly communicate with animals or men.
Why is it only now that we smell that distant burning.
When I say stone do I mean a rock in a prettier pretense. Will the stone kill less against the temple. If I say the word that was done to me then I will become the act that was done to me.
I want love in the eating season, the white sun to whittle my body from prosecco flutes into the negation of bodily needs.
Progression broke down into figurines long ago. I cheated the fat out of progress to snuff out progress and look at my city, just look at it.
At night I fall asleep with my teenager scene still in my head, and its brutality coaxes me away, apart, into a capsule of safety.
Grandma Willendorf showers with me under her legs the next morning. I taste her residue, tarry nectar of her hovering belly.
I wanted to write this empty, disavowed of the tweets of universal pangs.
Disavowed again of my fumbling history. Forget forget forgetting.
Now as always it is difficult for us to see smoke without the interpretation of fire following after.
I read one detail of drone warfare in which its victims curse the clear sky, the blue coming from space down as a killing target, the drone's narcissism needing the closeness of its shadow. Its bodily needs.
I've reviewed the terms of this contract and removed all maudlin clauses, all the melodramas of my finite skins. Now only the rock queens remain. The word no. No.
A helicopter razes the weather, fogged and becalm of smoke. My city snuffed in a bright modern weather, snuffed in a weather with no trigger in sight.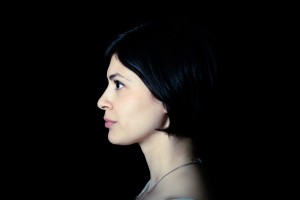 Natalie Eilbert's first book of poems, Swan Feast, has just been reissued by Bloof Books. She is the author of two chapbooks, Conversation with the Stone Wife (Bloof Books, '14) and And I Shall Again Be Virtuous. (Big Lucks Books, '14). Her poems and essays can be found or are forthcoming from The Kenyon Review, Tin House, West Branch, Guernica, The Fanzine, Philadelphia Review of Books, and many others. She is the founding editor of The Atlas Review. You can find more writing on her tumblr, venusofnatalie.tumblr.com.
(Visited 942 times, 1 visits today)